The utilities industry is under pressure from multiple angles.
As well as economic and political pressure, regulatory transformation, increased competition, and changes to customer behaviours have created a myriad of issues for businesses to contend with and manage.

Huntswood has a long history of supporting businesses; allowing them to focus on their strengths by deploying our own. We are experts in customer servicing and regulatory support; helping businesses strike the right balance between operational excellence, customer experience, and regulatory compliance. Our clients benefit from a collaborative, partnership approach that supports sustainable growth and profitability.

How we can help
Huntswood has extensive experience working in the consumer credit market, in particular on the issues surrounding responsible lending and affordability. In our capacity as a member of the FCA's Skilled Person Panel, we have gained significant insight into best practice, ensuring it aligns with the changing expectations from the FCA. We can support firms with:

Case study:
Supporting the UK's largest energy provider to clear a significant complaints backlog
Huntswood was engaged to support in clearing a backlog in complaints as well as taking on a portion of BAU work
MAKE AN ENQUIRY
Get in touch with our team of experts to discuss your company's approach or find out how we can help


Or, if you would prefer to speak directly to us, please call 0333 321 7811
Cost to serve in utilities
From increasing regulatory and political pressures to evolving consumption habits, the utilities industry has faced a perfect storm of challenges in recent years.
This paper provides clear and practical advice on how to eliminate unnecessary spending, without businesses having to sacrifice on the level and quality of their customer service.
Download our free paper 'Reducing the cost to serve in utilities'.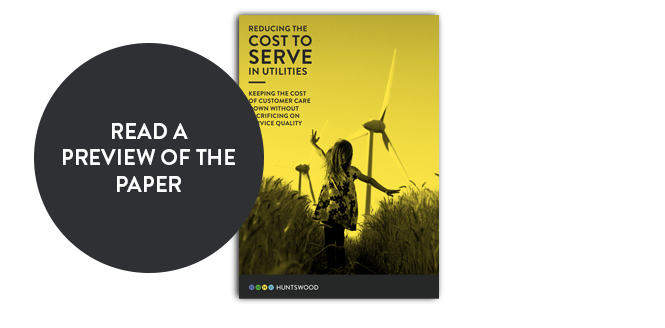 INSIGHTS
Read our latest articles and regulatory updates regarding affordability and responsible lending:
Connect with our utilities sector experts
SIGN UP FOR REGULAR INSIGHT
Keeping up-to-date with the latest industry topics and regulatory issues can be quite time-consuming! 
Thankfully, our regulatory experts are here to help you stay on top of it all. Fill in the short form below to receive a monthly round-up of our insight, news and analysis.