A good complaints experience will keep a customer loyal and foster advocacy
Delivering fair customer outcomes is now rightly viewed as the regulatory minimum for any complaints process. However, firms need to find ways of keeping complainants happy (and loyal) if they want to remain competitive. We have calculated that firms could increase their long-term customer retention rates from 49% to 75% by delivering a speedier, more effective complaints experience.
By investing in complaints processes and developing the skills of your frontline and specialist complaint handling teams, your firm can retain customers who might otherwise choose to leave. Not only that, you'll also create more advocates for your business in the process.

Our tried-and-tested, customer-focused complaints methodologies and frameworks have successfully supported firms across a wide range of industries and sectors. Our focus is on ensuring that regulatory requirements are met, that customer experiences are enhanced and that the operational performance of the complaint handling function is optimised.
Customers are now more likely to take other action against their firm, rather than complain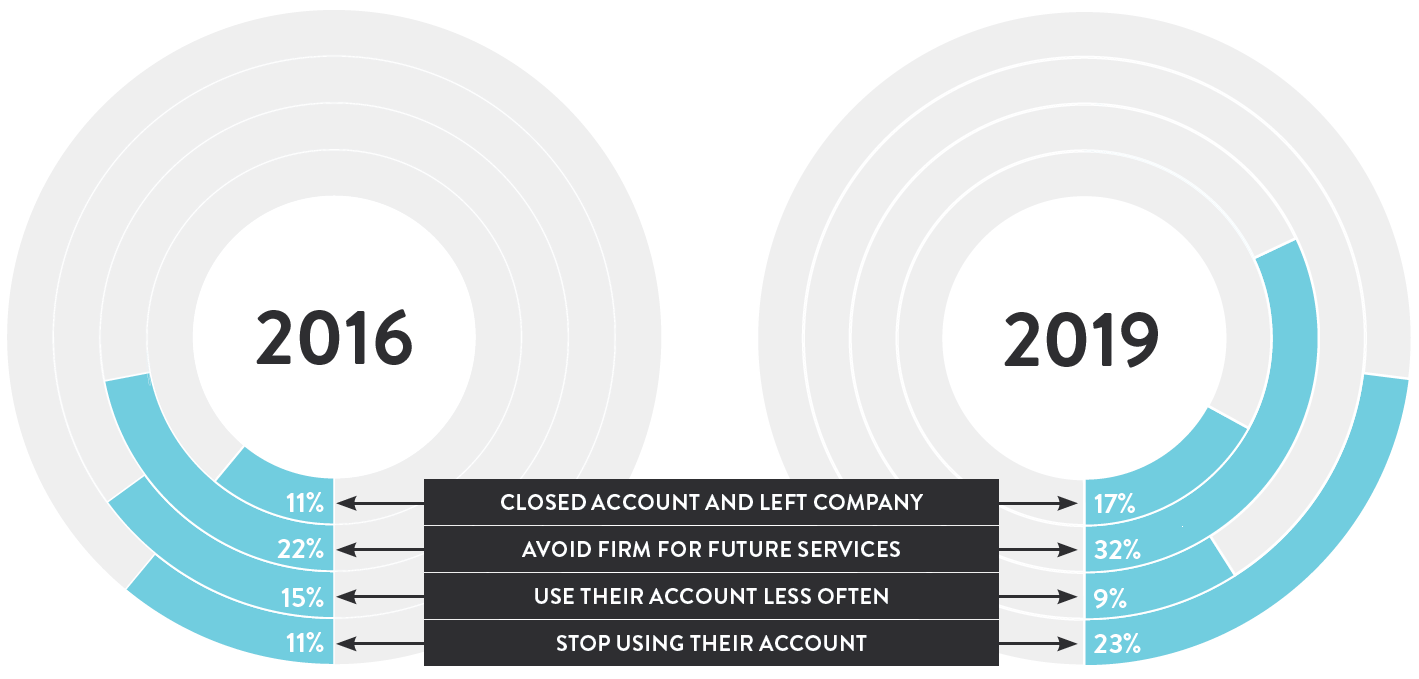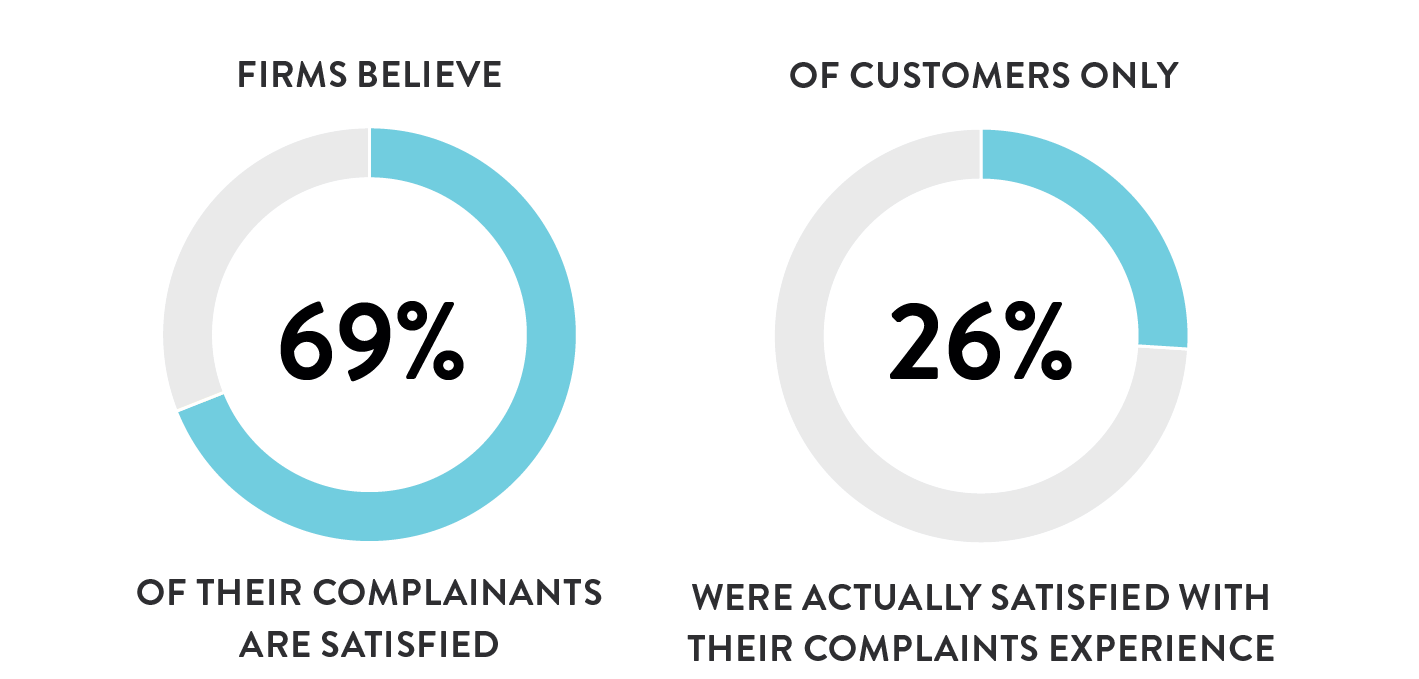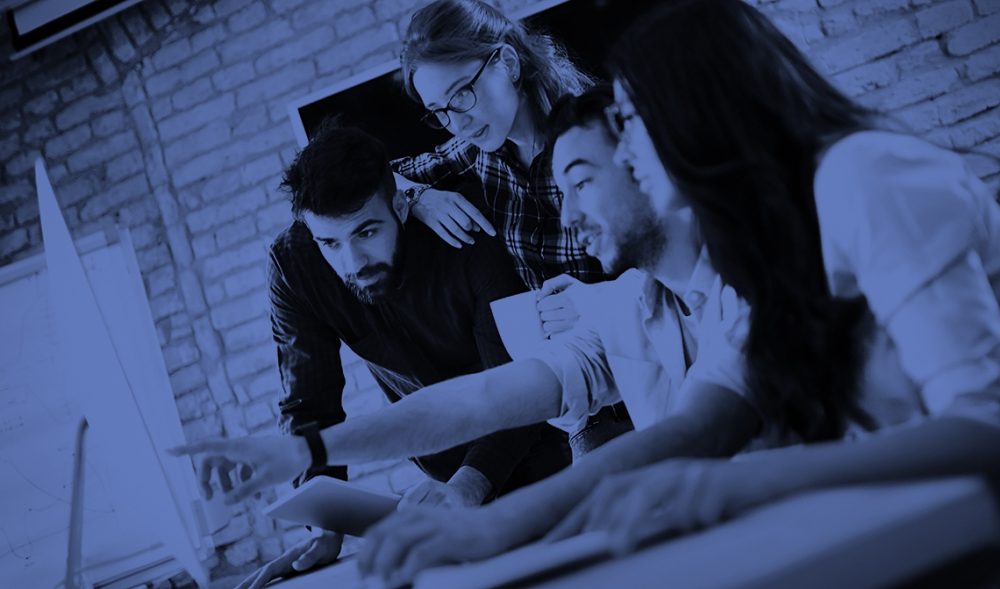 LET'S TRANSFORM YOUR COMPLAINTS OPERATIONS
Huntswood can assess your firm's current operating model and develop a solution specific to your needs and requirements. We offer a range of consultative, resourcing and tech-based services, including end-to-end complaints management, quality assurance, root cause analysis, governance and controls reviews, as well as regulatory and operational training.
COMPLAINTS TARGET OPERATING MODEL REVIEW

Huntswood has an established methodology to support firms in defining, achieving and maintaining their optimal complaints target operating model. By doing this, firms have the ability to build and implement a robust complaints handling model, adhere to regulatory expectations and reduce exposure to risk. Firms can also ensure a consistent approach to complaint investigation and resolution is used to provide fair customer outcomes.

Our approach consists of three phases:
The critical first step is an assessment of the firm's current complaints target operating model to ensure it is meeting regulatory requirements. To achieve this, we analyse your complaint journey and operating control environment through three key lenses:
Regulatory compliance
Fair customer outcomes
Process efficiency and effectiveness
A review will be carried out by conducting desk-based document and complaint file reviews, interviews and side-by-side observations. This will help to identify potential regulatory breaches, opportunities for unfair customer outcomes to creep in and areas for general improvement.
We will then deliver a detailed report of our findings and recommendations.
This phase is typically completed over a three-week period.
After the findings and recommendations have been shared, Huntswood will facilitate a series of workshops to enable your firm to prioritise the identified risks, issues and areas for improvement. These workshops will open up opportunities for stakeholders within your firm to discuss, develop and assess the solutions on offer. This will lead to the design of an agreed 'go-to' complaints target operating model.
Following this, we will work with you to develop and manage an implementation plan. This plan can include:
Policy and process creation
Training and upskilling
Governance development
Systems update
Improving management information and root cause analysis requirements
Bolstering quality assurance arrangements
This phase is typically completed over a three- to six-month period.
Following implementation, the new operating model will need to be embedded within your firm. We will continue to test, learn from and adapt the model to ensure continued success.
This phase will typically be carried out by the firm on an ongoing basis. However, it is good practice to seek independent assurance on your model regularly, especially following any significant change within the business.
Whether you need a full review of your current approach, a custom-designed and implemented model, or to draw on our expertise to support your own thinking, contact one of Huntswood's experts today.
The whole Huntswood team have proven to be professional and efficient within every work stream presented to them, with the biggest asset of the team being their versatility while maintaining above expectation performance.

Head of Retail Innovation Team, leading UK retail bank
The project has run incredibly smoothly, which reflects great planning and great commitment to pro-actively resolving issues … Good collaborative planning was at the heart of the operation. It primarily ensured our customers received an outstanding service but it also helped us convey confidence to regulator and all the internal stakeholders

Operations Director, leading UK merchandise retailer
Huntswood is able to handle rapidly changing priorities and react quickly to our needs and also challenge us on proposed course of action and the implications involved.

Senior Manager, Customer Service Recovery, leading UK retail bank
Our challenge … has been extremely demanding and Huntswood has had to deal with a rapid upsizing of the ongoing engagements, taking the number of deployed staff from an initial 16 to 174 in a very short space of time. The hassle-free experience has been testament to Huntswood's organisational and management skills.

Senior Manager, Customer Service Recovery, leading UK retail bank
SIGN UP FOR REGULAR INSIGHT
Keeping up-to-date with the latest industry topics and regulatory issues can be quite time-consuming! 
Thankfully, our regulatory experts are here to help you stay on top of it all. Fill in the short form below to receive a monthly round-up of our insight, news and analysis.