Posted: 1st November 2018
On the 29th October 2018, the FCA released its complaints handling statistics for regulated firms covering the period of H1 2018.
This data provides the financial services sector with a detailed overview of just what people were complaining about, and to whom, in the first half of 2018.
Comparing this data to complaints handling statistics from H2 2017, the FCA data paints a picture of rising complaints volumes, increased amounts of redress being paid to consumers and slower response and resolution times from many firms.
The FCA publishes aggregate complaints data from across financial services sectors every half-year, using it to assess how well firms are resolving complaints and looking to foresee any particular areas of detriment to customers. It is also used to highlight concerns with specific products, allowing the regulator to take the actions necessary to protect consumers.
It should be noted that the FCA publishes complaints data at a market level and firm level, but the latter only features information for firms reporting more than 500 complaints in the half-year period (or 1,000 in the case of consumer credit firms if reported annually).
What does the data say?
In total, FCA regulated firms received more than 4 million complaints during the first six months of 2018, marking the fourth successive half-year in which complaints volumes have risen, and a new record level in general. 98% of the 4.13 million complaints made were made to only 235 of the 3,161 firms that reported their data.
Perhaps more important to customer service and satisfaction is the fact that fewer complaints are being closed within three business days. Only 35% of all complaints (including PPI) were closed in this time frame, compared to the 39% closed in H2 2017. The FCA believes this to be because there has been an increase in the number of PPI complaints made to firms, which generally take longer to resolve. Only 7% of these complaints were closed within three days, and 11% of these took longer than eight weeks to close.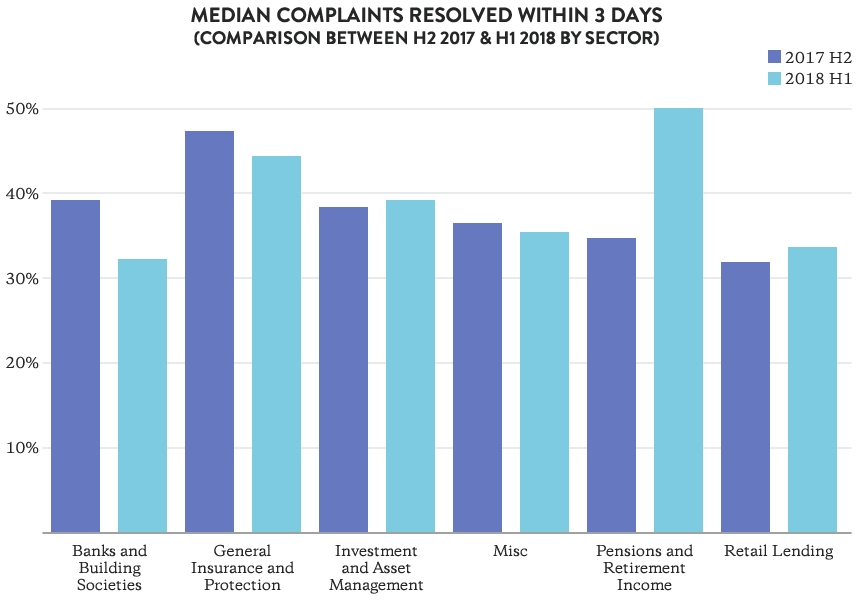 Figure 1: Complaints resolved within three days (comparison between H2 2017 and H1 2018 – by sector)
The most complained about product continues to be PPI. 42% of all complaints were related to this mis-selling scandal – a figure perhaps spurred upwards by the FCA's communications campaign. Firms have paid £2.57 billion in redress related to PPI (this increasing 9% from £2.36 billion paid before H2 2017).
After PPI, current accounts and credit cards were the most complained about products (15% and 8% respectively), followed by motor and transport insurance products (6%).
Cross-sectoral analysis – a big upsurge in complaints for pensions and retirement firms
The biggest spike in complaints since H2 2017 was experienced by a rather unexpected sector: pensions and retirement income, seeing a growth in complaints as high as 40% (by comparison, general insurance and protection saw only a 19% increase). This sector, which includes far fewer firms than other sectors in the FCA data sample, did manage to close far more complaints within three days than it did in the previous six months, closing almost 50% of complaints within this time period as compared to a little over 35% in H2 2017. This sector also upheld around 65% of complaints in H1 2018 as compared to the previous 60%.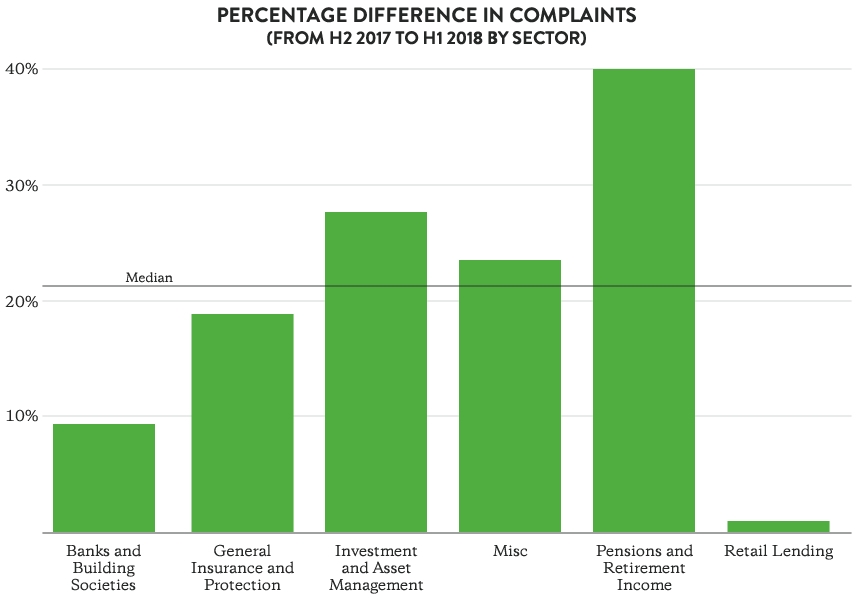 Figure 2: Percentage difference in open complaint volumes (comparison between H2 2017 and H1 2018 – by sector). It should be noted that consumer credit firms also saw a median increase of 12.4% between the two half-years.
It is possible that this increase in volumes for pensions and retirement income firms is being driven by defined benefit and self-invested personal pensions (SIPP) complaints. FOS SIPP complaints were also noted to have almost doubled in 12 months (based on August 2018 data). SIPP complaints were also noted to have had amongst the highest uphold rate of any product within the latest tranche of FOS data (35% uphold).
The importance of systems resilience is highlighted further by the data
Many of the data spikes have been driven at a firm level by specific issues, often associated with highly publicised systems outages. The importance of systems and data resilience is highlighted by one firm which received a 270% increase in complaints due to a systems outage.
Increased complaints volumes – an opportunity for invaluable feedback?
Firms needn't shake in their boots at increased complaints numbers. They should be using every complaint as an opportunity to learn from mistakes and foster customer loyalty by displaying genuine care for the people they serve.
At a recent Resolution forum hosted by Resolver, Dr Alex Gillespie and Dr Tom Reader, from the London School of Economics' Department of Psychological and Behavioural Science, outlined how other industries have continually learned from mistakes to drive improvement. They made comparisons to the aviation industry, in which advances in a data and root cause analysis have led to continuous improvements in aviation technology.
Firms that can rectify issues before they become detrimental to customers are those best placed to benefit in an environment in which consumers are more informed – and savvier than ever.
Consumers expect their voices to be heard and responded to, with many industry experts suggesting that the length it takes for a complaint to be resolved directly related to how likely the customer is to return to your business.
The value of complaints
The FCA complaints data is an invaluable source of information for financial services firms, allowing businesses to identify sub-sectors and products that have the potential to cause harm to customers and markets.
By delving deep and analysing trends thoroughly, firms could make incredible headway into developing genuinely 'customer-centric' propositions.
And as always, firms should ensure that they can resolve complaints to the customers' satisfaction, with the aim of turning any complainant into a firm advocate.