Posted: 25th January 2018
Our annual survey, conducted with over 400 non-executive directors (NEDs) and company secretaries (CoSecs) working at regulated firms, asked respondents to tell us what they see as the main regulatory and conduct risk concerns for 2018.
It's an invaluable exercise for us, as it keeps our support via Huntswood's NED Network relevant and timely.
We asked respondents to rate the importance of the following issues on a scale of 1 to 10 (where '1' was most important, and '10' least):
Fair treatment of customers in vulnerable circumstances
Digital conduct risk
Fraud
Governance, culture and building consumer trust
Robotics and automation to drive operational efficiencies
Data management: security and operational efficiency
Payments
Financial crime
Oversight of third-party suppliers
Brexit – Implications for regulated services
We found that, whilst there were some similarities with results from last year, there were also some marked differences.
'Governance, culture and building consumer trust' retains its #1 spot for a second year running.
The topic of 'data management' is a far more prominent focus this year; ranking very highly (no. #2 issue) in NEDs' overall Top 10 of issues for future focus.
This is in stark contrast to where the topic placed last year - at no. #7.  It is perhaps no surprise that, with the go-live date for enforcement of the General Data Protection Regulation (GDPR) looming, the urgency of getting 'houses in order' in time, has reached a new peak. The general topic of data management is bound to be 'top of mind' for board members – and the potential consequences of getting it wrong is now a bigger punitive threat than ever before.
The subject of 'digital conduct risk' continues to be important, while non-execs and company secretaries place greater emphasis on the issue of customers in vulnerable circumstances than they did last year.
'Brexit: Implications for regulated services' - naturally, the impact of Brexit appears to divide opinions, with 27% of NEDs and CoSecs citing it as one of the issues that they expect to come up at Board, but which they won't spend much time on – compared to 23% of those surveyed, who believed it would be one of the top five topics they would discuss at the table over the course of this year.
Breakdown of results: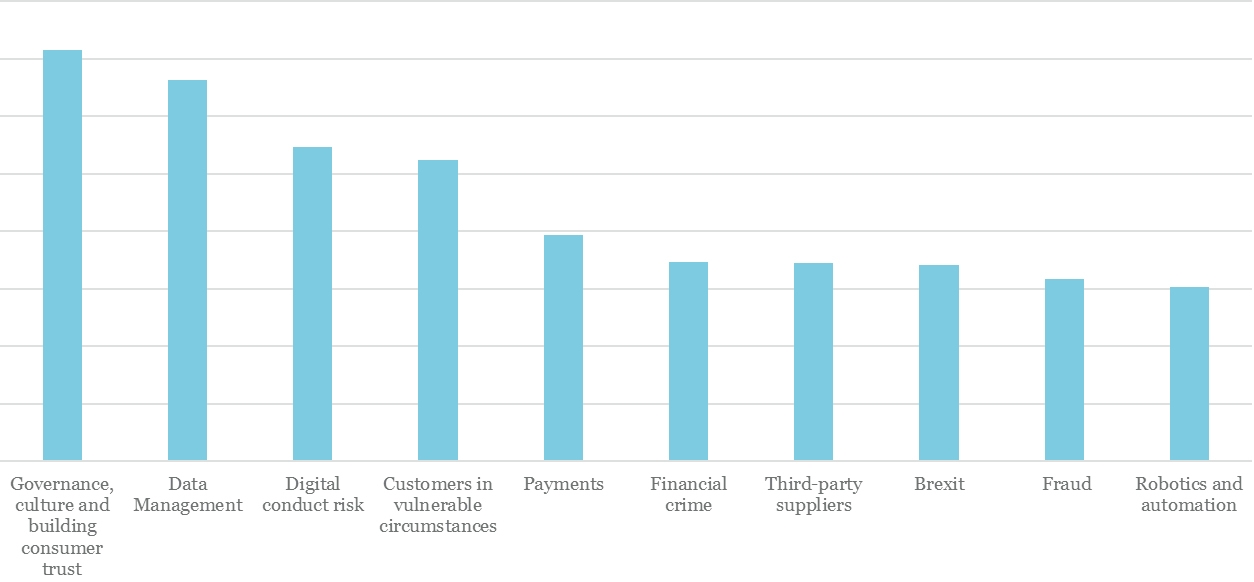 (Fig. 1: Key issues for boards in 2018)
there's MUCH MORE TO CONSIDER IN 2018
Respondents were encouraged to add any topics they felt had been missed from our 'top ten' and to expand on some of the listed issues.
Diversity was suggested as a theme that merited more discussion, with one respondent commenting: "How does a board get the balance right when it comes to diversity and / or competence?"
MiFID II was seen by some respondents as another item for further exploration
Others were keen to see the subject of the Senior Managers and Certification Regime (SM&CR) in the Top 10. One respondent commented: "SM&CR is a long way from being a 'solved' issue."
Customer retention was top of mind for some of our NEDs and CoSecs, in the face of customer switching and the current volume of competitors in the market
In addition, we picked up on respondents' apparent awareness relating to advancements in fintech
 
CLEAR LINKS TO FCA Business Plan 2017 / 18
Five topics deemed important by non-execs and company secretaries in our survey relate directly to no less than five of the six key risks cited in the in the FCA's Business Plan 2017 / 18. Namely:
Firms' culture and governance
Financial crime and anti-money laundering (AML)
Technological change and resilience
Treatment of existing customers
Consumer vulnerability and access to financial services
The one item remaining: "promoting competition and innovation" was not highlighted specifically in our topics list, but nevertheless, it was picked up on by some respondents who recorded the following comments when asked to fill in the gaps on topics we missed:
"Customer retention in an 'Open Banking' and a digital world"
"Cultural and technical agility in an uncertain world of disrupters"
"New competitors emerging from non-traditional areas (e.g. Amazon entering financial services)"
What topics merit the most discussion?
A new question in our 2018 survey asked NEDs and CoSecs to anticipate the percentage of time that will be spent on each of our 'offered' topics.
'Governance, culture and building consumer trust' led the field, with respondents feeling this topic would take up almost a quarter of the board's time over the course of the year (an overall total of 21% of 'boardroom time').
In contrast, whilst respondents believed 9% of boardroom discussions were likely to focus on 'customers in vulnerable circumstances' and 8% on 'digital conduct risk', the topic of 'robotics and automation' was an unexpected 'laggard', with an even lower proportion of time spent on the matter (7%).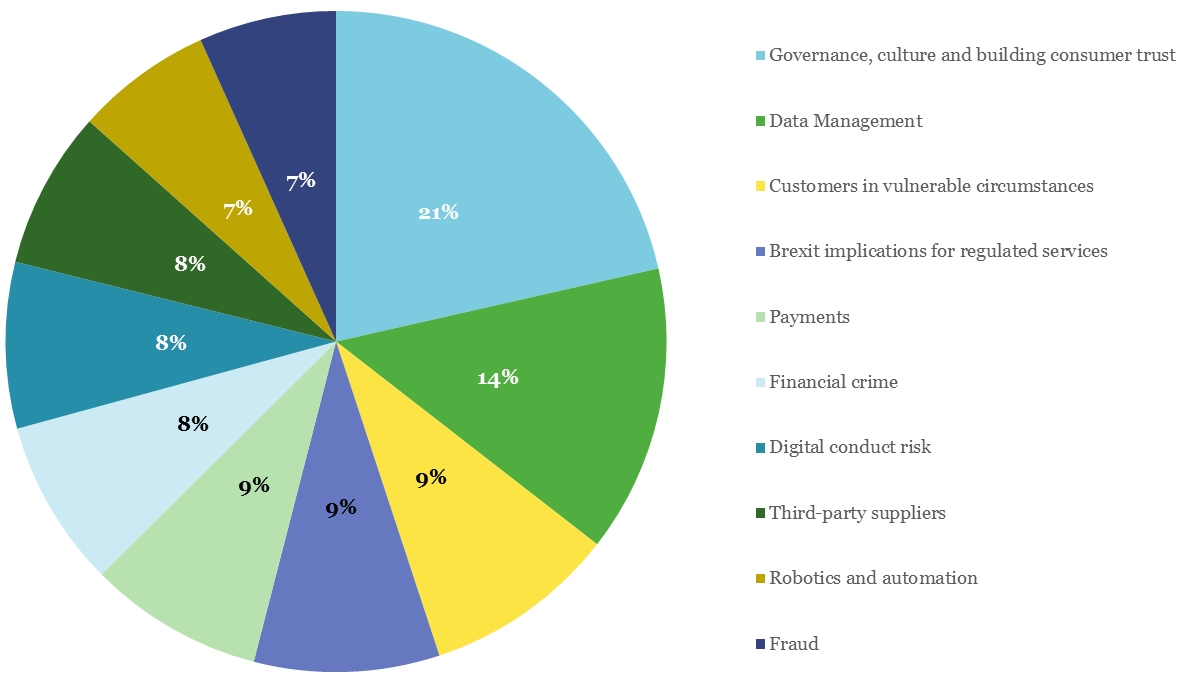 (Fig. 2: Anticipated percentage of time that will be spent on each topic)