The FCA has been very clear in terms of what their expectations are, the risks that they've seen within the market and how firms should assess affordability to mitigate them.
Lenders should do all they can to keep one step ahead of the regulator and proactively take steps to ensure they are in control of what happens next. Making the necessary changes to processes, policies and products will help avoid future or retrospective punitive measures and allow firms to demonstrate to the FCA that they have understood affordability and its importance.
Download our free paper and best practice guide
The requirement to evidence and ensure responsible lending is paramount. The challenges for lenders with regard to affordability assessments are even more apparent today than ever. Striking the right balance when it comes to affordability decisioning is critical.
This mini-paper provides a best practice guide to getting the balance right when it comes to affordability and assessing a customer's individual circumstance.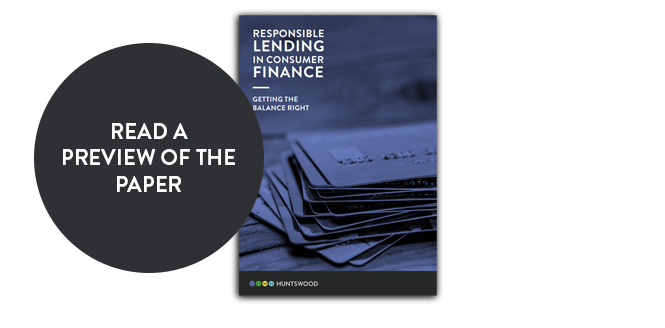 How we can help
Huntswood has extensive experience working in the consumer credit market, in particular on the issues surrounding responsible lending and affordability. In our capacity as a member of the FCA's Skilled Person Panel, we have gained significant insight into best practice, ensuring it aligns with the changing expectations from the FCA. We can support firms with:

MAKE AN ENQUIRY
Get in touch with our team of experts to discuss your company's approach or find out how we can help


Or, if you would prefer to speak directly to us, please call 0333 321 7811
CASE STUDY | high-cost-short-term lender
COMPLAINT HANDLING BACKLOG
Our team of 20 specialist complaint handlers was rapidly deployed to set about reducing a backlog of c.5,000 complaints within 6 months.
Delivering over c.200 case closures a month and outperforming other teams, the Huntswood FTE was scaled up to c.85 to accommodate further capacity.
The client commended the sustained high performance, collaborative approach, and ultimately the quality and speed of delivery. Subsequently extending the contract beyond its initial term.
CASE STUDY | payday lender
UNDERTAKING A SKILLED PERSON REVIEW
A large high profile payday lender was required to appoint a skilled person to assess policies, processes, and compliance in alignment with the FCA's regulations regarding fair customer outcomes.
The unique project required a specialist team who reviewed c.140 complaint files, conducted 17 leadership interviews, and assessed 40+ documents over 4 weeks, all the while keeping the FCA abreast of activities.
The collaborative, no surprises approach of the Huntswood team delivered the project on time, on budget, and to the satisfaction of the regulator.

The Huntswood Podcast:
AFFORDABILITY AND RESPONSIBLE LENDING 
Huntswood's Matthew Drage, Paul Dyer, and Richard Brown zone in on the topic of affordability and responsible lending within the consumer finance marketplace.

INSIGHTS
Read our latest articles and regulatory updates regarding affordability and responsible lending:
Connect with our Consumer finance team
If any compliance / conduct risk support is required, Huntswood will always be involved in the process.

Regulatory Risk and Compliance Manager – consumer credit firm
SIGN UP FOR REGULAR INSIGHT
Keeping up-to-date with the latest industry topics and regulatory issues can be quite time-consuming! 
Thankfully, our regulatory experts are here to help you stay on top of it all. Fill in the short form below to receive a monthly round-up of our insight, news and analysis.