SCENARIO:
Huntswood was engaged by a major retail bank to undertake a remediation exercise impacting 180,000 customers. This was the largest remediation exercise ever undertaken by the bank, and was closely supervised by the bank's board, as well as the regulator. All work was undertaken at Huntswood's operational delivery sites.
During project set up, the bank experienced high BAU complaint volumes. At short notice, we upskilled and deployed 350 complaints specialists, who were poised to deliver the remediation exercise, to backlog clearance, including designing and running route to competency.

---
To expedite the process of dealing with BAU complaints, we tailored an existing case management platform to the project, deployed a tech tool which enhanced the view of performance, and made various process improvements.

---
Following clearance of the backlog, our 350 FTE were redeployed to begin the remediation exercise, along with an additional 650 further FTE, due to an increase in the scope of work. This resulted in a 1,000 strong operation resourced, deployed and managed by Huntswood.

---
Despite the delay in commencing the original remediation exercise, the client's timeline for completion remained the same. Our earlier process improvements were used to ensure it was completed to the original schedule.

---
Huntswood established a 'case clinic' incorporating our regulatory experts, which further expedited the delivery of remediation by grouping cohorts of customers together. Case clinics ensured effective governance and consistency of decisions and outcomes.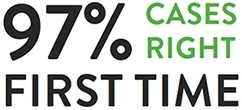 SIGN UP FOR REGULAR INSIGHT
Keeping up-to-date with the latest industry topics and regulatory issues can be quite time-consuming! 
Thankfully, our regulatory experts are here to help you stay on top of it all. Fill in the short form below to receive a monthly round-up of our insight, news and analysis.