Posted: 30th July 2019
Imagine this scenario: you are the customer of a UK utility company and are shocked one day to find that your normal bill has suddenly skyrocketed.
"This has to be a mistake," you protest, "we haven't used any more water or energy than normal, or changed tariff or even received any notice from our supplier!"
And so, you give them a call to sort it out.
You think it will be as easy as sitting in a queue for a few minutes, speaking to a representative from your supplier and getting the bill bumped back down to its normal level. But, instead of an immediate resolution, you are told that the issue requires further exploration. Perhaps a back-end issue has resulted in a miscalculation and the supplier needs to first determine the cause.
You're furious, of course. You've done nothing wrong and now you've been made to take precious time out of your day (perhaps days!) and chase up the supplier for rectification. It's hardly an insignificant bill, after all.
Across the length and breadth of financial services, utilities, telecoms and travel, this kind of scenario is playing out every day – customers experience a material issue and contact their provider trusting that they can resolve the complaint at the first point of contact (FPOC). But this is, more often than not, difficult to achieve, despite firms claiming they do so in over half of all cases.
Recently conducted research for our Complaints Outlook 2019 has revealed the large disconnect between customers' expectations around the speed of complaints resolution and what businesses are actually managing to achieve. It also highlights just how important it is to aim to deliver FPOC resolution, with "speed of resolution" one of the most important factors in customer satisfaction.
But why aren't firms achieving this? And how can they ensure that customers' complaints journeys are never overly-long?
How long does it really take to resolve a complaint?
Customers overwhelmingly expect that their provider will be able to resolve their complaint at the FPOC, but this is at odds with the reality of the situation.
76% of financial services customers and 78% of utilities customers expect their complaint to be resolved "immediately" upon contacting their provider. Now, whether that means in the exact same phone call or in the same day is up to the individual interpretation of the customer, but in either scenario it is obvious that customers want a quick resolution to their problems.
Despite their expectations, only 18% of customers we surveyed for the Complaints Outlook 2019 claimed that they received a FPOC resolution. We also found that the average time taken to fully resolve a complaint, when not closed at FPOC, was around 33 days – more than a full month after the complaint is lodged. This has severe consequences for customer loyalty, with customers generally becoming significantly less "retainable" if the complaint is left unresolved for a week or more.
Shockingly, firms are managing to exceed customer expectations (in terms of time taken to resolve a complaint) in only 1 in 100 cases. It is, perhaps, not hard to see why this is the case if the majority expect an instant resolution, but it is still a concerning thought.
So, how has this disconnect widened? And what can firms do to close the gap?
Customer expectations have changed
There's no denying that we live in a world of convenience. Thanks to the emergence of the internet as an all-pervasive force in our lives, we can access food, shelter, transport, arts and entertainment with the click of a button, anywhere and everywhere (that has mobile coverage, at least).
This convenience has had an incalculable effect on the financial services and utilities industries. It's allowed the growth of tech-heavy challenger firms and enabled customers to make complaints or even switch providers in no time at all. In fact, it's now so easy to compare and switch providers that we've entered an era in which it is easier to simply switch away from a firm instead of complain to them (see 'Driving deeper, more valuable relationships with existing customers' in Complaints Outlook 2019).
It's perhaps no surprise that customers who are able to run their lives through their phones expect that their firm will be able to resolve an issue at the click of a button. Unfortunately, that's not exactly how it works. 
It is often the case that firms silo their operations away from the frontline, using back-office complaints handling teams, meaning that staff have to escalate issues and await confirmation that they are able to offer a certain solution before they are able to resolve the complaint. The person that customers initially complain to is not likely to be the same person who has final sign off on any decisions.
There are ways that firms can reduce complaints handling times, however, and it all starts with the people at the frontline.
Empowering your complaint handlers
In the continuing battle to capture market-share from competitors, a firm's frontline complaints staff become one of its greatest assets. This is especially true in regulated markets where businesses may be selling more or less the same product across the entire field of competition. Customer service becomes a value-adding differentiator in this case, and if your firm can deliver on customer expectations you will surely leave the competition far behind.
Firms should initially be reviewing their target operating model and the key performance indicators that their staff should be working towards. Management needs to emphasise the importance of delivering rapid complaints resolution, but temper this with the acknowledgement that "fast" doesn't always equal "good quality". Staff still need to deliver personalised services to the customers they are interacting with, displaying high levels of knowledge and empathy around the issue (this being another major finding from the report).
To assist in delivering both fast and customer-centric resolution, firms should be looking at expanding the resource base that makes up their complaint teams. Flexible, scalable resources can be used, for example, in periods where there is a spike in complaints (think of the effects of the winter months on utilities providers, or system-outages on financial services firms).
Permanent resource should also be maintained at an appropriate level based on effective capacity planning. Complaint handlers are sometimes pressed to handle more cases than they can comfortably take on. It's fair to say that a stressed complaint handler probably won't be representing the best of your firm nor displaying the knowledge and empathy that customers need.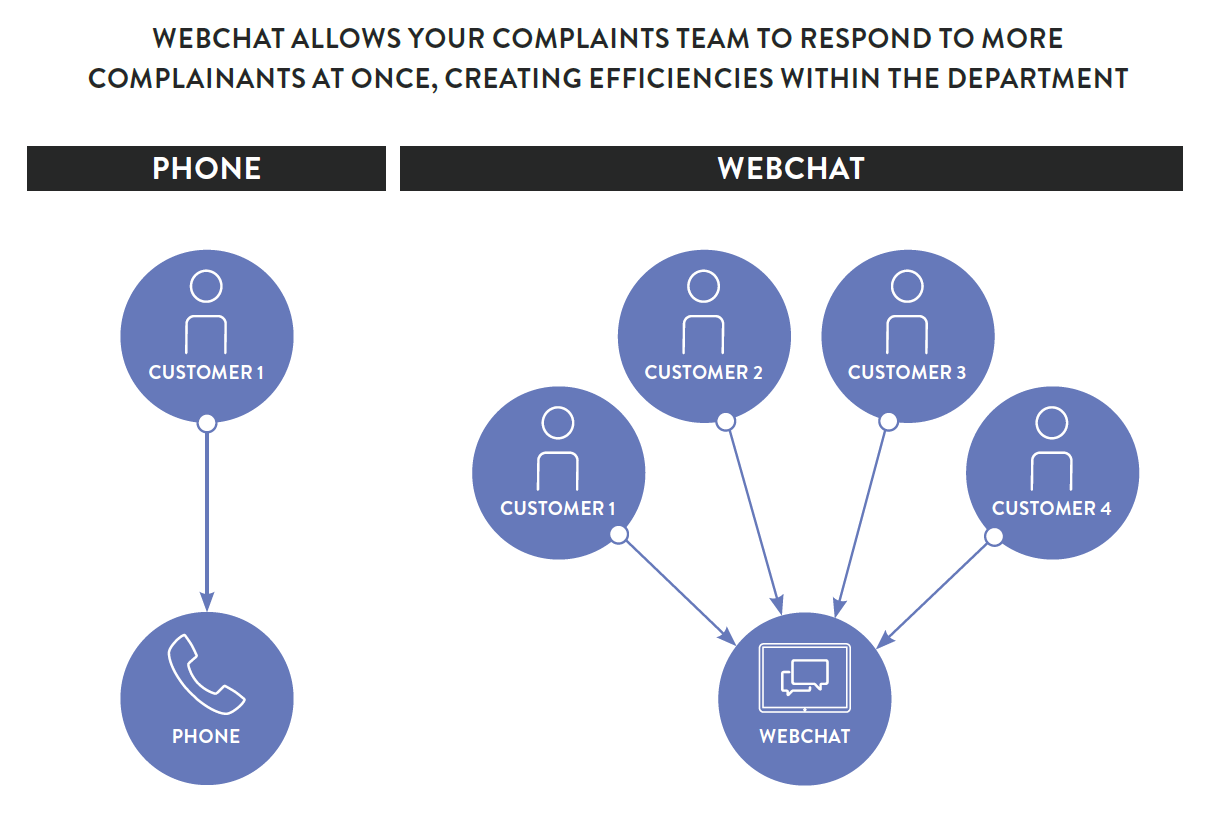 To ease the burden further, firms could consider implementing a webchat function. For businesses that offer webchat, around 20% of customers will choose to use it to make their complaint. For customers, it offers the ideal combination of convenience, immediacy and written evidence. For firms, it enables more efficient use of resource as multiple conversations can be completed simultaneously.
Ultimately, complaint handlers are some of the most important representatives of your business. It is what happens on the ground that really impacts your existing customers and encourages them to spread the good word of your exceptional customer service.
Firms need to empower these frontline teams with the knowledge and authority they require to offer personalised solutions to clients on the spot. If a complaint handler doesn't have to put the customer on hold to go and check something is okay, or pass them onto other teams, then they can focus their entire effort on servicing the customer they are speaking to.
Naturally, training and continuing personal development is required to give complaint handlers a wider skillset, but it all begins with managers delegating a certain level of responsibility and putting more of their trust in those with the headsets.
FPOC resolution can't always be achieved …
… but it is important that your complaint handlers are able to effectively reassure the customer that they are doing all they can to resolve their complaint quickly. When customers are at the risk of material damage, they want to be sure that they are being looked after, and so will want to be kept updated regularly.
Though it's not always possible to resolve a complaint immediately, the empathy and knowledge displayed by frontline staff will make all the difference in managing expectations. If handled effectively, even a complaint that takes a while to resolve can be turned into a positive experience worth sharing – and sticking around for.
A fantastic starting point for any major change-project within the complaints department is Huntswood's Complaints Outlook 2019. Containing all this insight and more, as well as practical guidance on steps forward, this invaluable report will be the 'go-to' handbook for any complaints department for years to come. Download it for free today.