SCENARIO:
Huntswood was engaged by a global bank to support in its collections and recoveries function following the identification of poor customer outcomes and resulting regulatory scrutiny.
We designed and managed a ringfenced operation, deploying experts with technical knowledge of repayment plans, IVAs, bankruptcy and forbearance options, and the communication and empathy skills to engage with customers experiencing financial difficulty.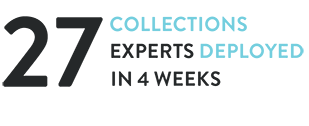 ---
We were also asked to improve the bank's first-time resolution metric, and delivered a bespoke training solution to enhance their capability, supporting the reduction in complaints. Collections complaints subsequently reduced from 910 to 510 per month.

---
Our ringfenced operation supported the bank to get back within its SLA. Through increased productivity levels, we completed the engagement well ahead of the client's expectation, completing all objectives within 7 months against an expectation of 10.

---
Due to the success of the delivery, and the surplus budget resulting from early completion, we delivered additional training to enhance the BAU team's identification and handling of vulnerable customers.

---
SIGN UP FOR REGULAR INSIGHT
Keeping up-to-date with the latest industry topics and regulatory issues can be quite time-consuming! 
Thankfully, our regulatory experts are here to help you stay on top of it all. Fill in the short form below to receive a monthly round-up of our insight, news and analysis.