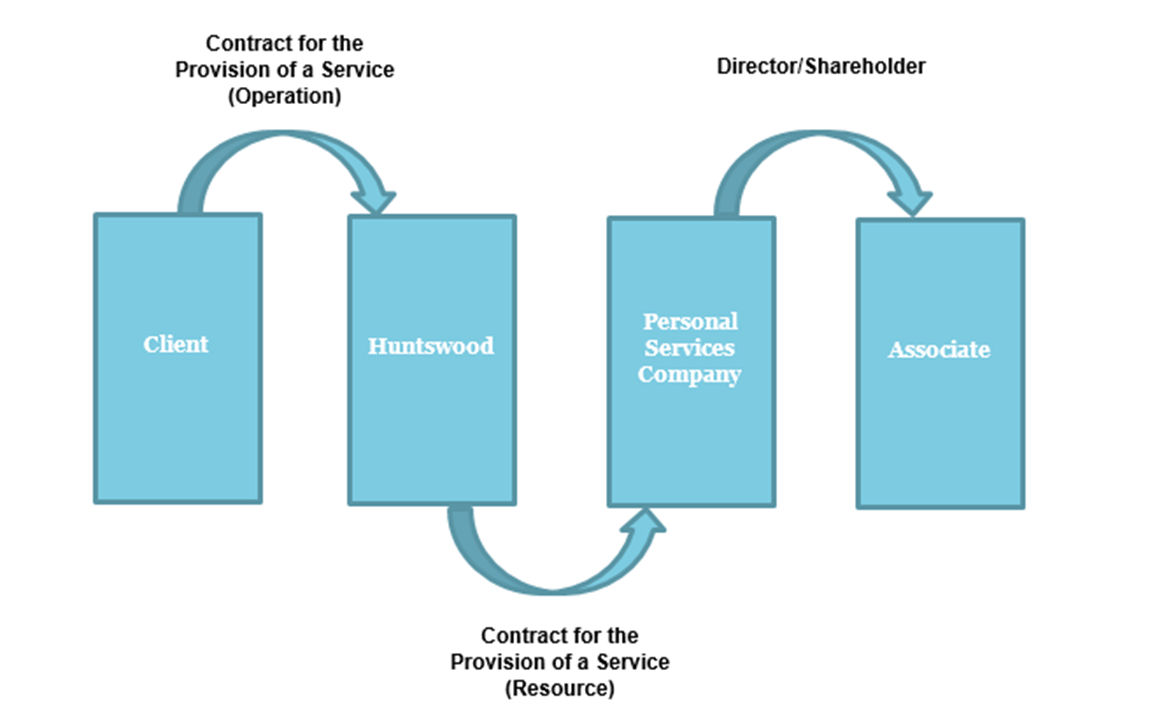 The above diagram is the Contracting Model for a Client Engagement. To summarise, a client enters into a contract for the provision of a service, such as complaint handling. To fulfil that requirement, Huntswood will engage with a PSC through a contract for the provision of service. In turn, the director/shareholder of the PSC (you) is engaged to provide those services.
When you provide contractor services to a client through your own PSC, you are doing so on behalf of your PSC.
Your PSC is engaged by Huntswood to provide resource to fulfil a client requirement. In short, you are not an employee of Huntswood or the client.
During your engagement, you may hear reference to your contract. When we speak of your contract, we are referring to the contract between Huntswood and your PSC for the provision of services. The contract with your PSC will include an Assignment Schedule which includes the particulars of the assignment.
Your Day Rate is stated in the Assignment Schedule. In line with the above contracting model, payment is made by each party in accordance with the relevant contract. So, the client will pay Huntswood for the provision of services and Huntswood will pay the PSC for the provision of services. In turn, you take a salary/dividends from the monies earned by your PSC.
It is important that you consult with an accountant to determine how you should be taxed as a PSC. This is particularly important given the upcoming implementation of the changes to the Off-Payroll Working Rules (IR35) in the private sector.
Your assignment is for a fixed period of time and comes to a natural end on the End Date stated in the Assignment Schedule. At the end of your assignment, you may be offered an extension, or the contract may come to an end. It is important to note that Huntswood is under no obligation to extend the assignment, nor is there an obligation to provide a reason as to why your assignment was not extended. This is the nature of contracting.
When your contract does come to an end, you should work with Huntswood to seek your next assignment.